In her very successful public television series, "Joanne Weir's Cooking Class" and her new series "Joanne Weir's Cooking Confidence", Joanne's love of teaching and working side-by-side with someone takes center stage. Awarded the very first IACP Julia Child Cooking Teacher Award of Excellence, Joanne shares a lifetime of experience that flavors everything she touches.
This series features hands-on cooking lessons with Joanne and her home kitchen as the classroom. Both the student and viewer learn how to prepare a wide variety of Joanne's recipes, using the freshest and most seasonal ingredients. Rather than simply listing ingredients, method, cooking time and serving size, these recipes feature additional instructions to inspire and instill confidence in the kitchen.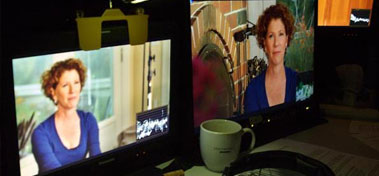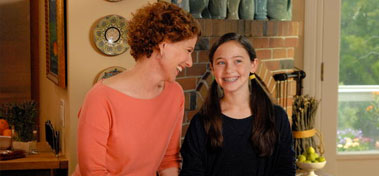 Episode 101 | Spain on My Mind
Joanne shares with us her emotional connection to Spain.
Recipes: Salmorejo and Spanish Lamb Stew
Student: Joan Boada, Principal Dancer, San Francisco Ballet
Episode 102 | Pizza with Pizazz
Joanne welcomes her student Geoff to class with a quick and easy salmon and pickled onion pizza.
Recipes: Lavash Pizza with Herb Salad, Arugula and Orange Salad, and Lemon Turkey Cutlets
Student: Geoff Rubendall, Civil Engineer
Episode 103 | Simply Elegant
Joanne greets her student Sarina with a bruschetta salad and it is quickly apparent Sarina is the perfect student for dishes that are simple enough for a weeknight, yet elegant enough for Saturday night.
Recipes: Bruschetta Salad with Prosciutto di San Daniele and Greens, Clams with Chorizo and Orange, and Vanilla Ice Cream with Blueberry Maple Syrup Compote
Student: Sarina Crivello, Apple Specialist
Episode 104 | Flavor Fiesta
It's a party when Joanne and her student Cheryl get together.
Recipes: Sweet Pea Guacamole, Tortilla Soup with Pork Meatballs, Tortillas and Cheddar, and Fresh Cherry Margaritas
Student: Cheryl Kovelchik, Entertainment Marketing
Episode 105 | Swimming Upstream
Most people, including Joanne absolutely adore salmon. She begins by nestling salmon rillete in endive, and then, with her student Jerry, bakes salmon in the ultimate symbol of love, a paper heart.
Recipes: Smoked Salmon Rillete/Endive, Salmon and Spring Vegetables Baked in Paper, and Lemon Tarragon Rice
Student: Jerry Feldman, International Business Development
Episode 106 | Italian Love Affair
Inspired by dishes made in her classes in Italy, Joanne introduces her student Reggie to bagna cauda, rigatoni with chicken in a tomato cream sauce, and a vegetable ribbon salad.
Recipes: Bagna Cauda, Rigatoni with Chicken, Tomatoes and Cream, and Vegetable Ribbon Salad
Student: Reggie Wooden, Student
Episode 107 | Never Too Young
Joanne welcomes her youngest student Stella to class and they nestle in to create a menu of some of Joanne's favorite chilly weather dishes.
Recipes: Sweet and Hot Pepper Relish Crostini, Roasted Game Hens with Prosciutto di Parma and Mushrooms, and Quinoa Pilaf with Dried Blueberries and Apricots
Student: Stella Ginsberg, Student and Blogger
Episode 108 | Guilty Pleasures
Joanne confesses to her student Kyle that her favorite food is potato chips, but gives him a healthier oven "fried" version.
Recipes: Oven Fried Potato Chips with Marjoram Salt, Bruschetta Burger with Caramelized Onions and Blue Cheese and Rosé Sangria with Blueberry and Nectarines
Student: Kyle Khasigian, Financial Associate
Episode 109 | Dinner Dance or Swept Off My Feet
Joanne starts her class with a challenge, presenting her French student Pascal three variations on the classic French sauce aioli. Then they are both swept off their feet by Joanne's twist on the classic combination of chicken and salad.
Recipes: Aioli and Variations, "Oven-Fried" Chicken Legs, and Butter Lettuce and Avocado with Lime Vinaigrette
Student: Pascal Molat, Principal Dancer, San Francisco Ballet
Episode 110 | Ticket to Provence
Joanne and her student Sasha are transported to Provence using herbs, citrus, and garlic. Joanne begins with a bright fresh citrus salad and then working together they create a very classic country, yet refined, dish of braised cod with leeks and potato.
Recipes: Citrus Salad with Mint and Red Onions, Cod Braised with Leeks, Potatoes and Thyme, and Roasted Garlic Slab
Student: Sasha Bernstein, Restaurant Consultant
Episode 111 | Eat Your Vegetables
Joanne eases the anxiety that can sometimes set in when a vegetarian is coming to dinner. Working with her fitness specialist student Randy she prepares a satisfying bulgur and feta salad and fried potato and spiced red pepper frittata that would satisfy vegetarians and meat-eaters alike.
Recipes: Bulgur, Feta and Oven-Dried Tomato Salad & Fried Potato and Spiced Red Pepper Frittata
Student: Randy Bramblett, Fitness Specialist
Episode 112 | Magical Morocco
Joanne shows us just how easily and quickly a deliciously spiced lentil soup can be made when you have the right spices in the pantry. She continues to spice it up with her student John, building a warm Moroccan chicken and sweet potato salad, cooling it off with a cardamom and ginger cocktail she has aptly named the Marrakech 75.
Recipes: Spiced Lentil Soup, Warm Moroccan Chicken and Sweet Potato Salad, and a Marrakech 75 Cocktail
Student: John Cu, Trial Attorney
Episode 113 | Asia Express
Joanne embraces teaching traditional recipes and then showing new ways to use them. She and her student Reggie make mayonnaise and create an Asian inspired meal of tuna burgers with wasabi mayonnaise and Thai cabbage and grapefruit slaw, leaving Reggie wondering if he will ever buy mayonnaise again.
Recipes: Grilled Yellowtail Tuna Burgers with Wasabi Mayonnaise and Thai Cabbage and Grapefruit Slaw
Student: Reggie Wooden, Student
Episode 114 | Italian Marketplace
Inspired by the roasted chickens in the markets of Italy Joanne teaches her student Joan her version of crispy chicken and potatoes with a side of hot pepper and white balsamic broccolini, topped off with a cherry Zinfandel zabaglione.
Recipes: Broccolini with Hot Pepper and White Balsamic, Crispy Chicken and Potatoes with Mustard, Rosemary and Capers, and Fresh Cherries with Late Harvest Zinfandel Zabaglione
Student: Joan Boada, Principal Dancer, San Francisco Ballet
Episode 115 | Gingerly
Joanne introduces her student Ron to the versatility of the often overlooked gingerroot greeting him with poached shrimp with a mango dipping sauce made with freshly grated ginger. Together it is then mussels steamed with mustard greens, lemon grass, and ginger with grilled bread with ginger aioli.
Recipes: Shrimp with Mango Dipping Sauce, Mussels Steamed With Mustard Greens, Lemon Grass and Ginger, and Grilled Bread with Ginger Aioli
Student: Ron Martin, Fire Chief
Episode 116 | You Say Tomato
When it is tomato season it is sometimes difficult to keep up with the bounty. Joanne prepares a chilled tomato and Greek yogurt soup, and then teaches her student Jack the versatility of roasted cherry tomatoes, showcasing them in a lamb sirloin salad.
Recipes: Chilled Tomato and Greek Yogurt Soup, Roasted Cherry Tomatoes, and Lamb Sirloin Salad with Feta and Roasted Cherry Tomatoes
Student: Jack Cohen, Website Merchandising
Episode 117 | Go Nuts!
Joanne goes "nuts" and makes for us her five-spice, ginger, and cayenne packed Asian Toasted Nuts. Then she encourages her student Geoff to do the same making stir-fried chicken, pine-nut lettuce wraps and cardamom-scented rice with toasted almonds.
Recipes: Asian Toasted Nuts, Stir-Fried Chicken and Mushroom Lettuce Wraps, and Cardamom-Scented Rice with Toasted Almonds
Student: Geoff Rubendall, Civil Engineer
Episode 118 | Fast Forward to Dinner
With her student Bonnie, Joanne makes us quicker versions of the comfort foods she grew up with in New England, oven-roasted sausages, and a sauerkraut that is so fast she couldn't resist calling it lazy-girl sauerkraut.
Recipes: Oven-Roasted Sausages with Riesling, Apples and Pears and Lazy-Girl Sauerkraut
Student: Bonnie Lin, Conference Interpreter
Episode 119 | Passport to Sardinia
The island of Sardinia is one of Joanne's favorite places. She created a menu to take her student Di there, fregola with clams and tomatoes and a yellow and green bean salad with cherry tomatoes and basil.
Recipes: Roasted Olives with Orange, Bay and Fennel, Fregola, Clams and Tomatoes, and Yellow and Green Bean Salad with Cherry Tomatoes and Basil
Student: Di Harris, Retired Nanny
Episode 120 | Journey to Italy
Joanne shares her memories of Italy with her student Barbra recreating some of the dishes form her travels. Starting with a simple salad of fig and prosciutto, then slowly adding just enough red wine to farro for a farro risotto, and finally ending the meal with a dessert of strawberry, port, and black pepper.
Recipes: Fig And Blueberry Salad With Crème Fraiche, Mint and Prosciutto di Parma, Farro Risotto with Red Wine and Grana Padano, Strawberry with Port and Black Pepper, and an Aperol Champagne Cocktail
Student: Barbra Bright, Kitchen Designer
Episode 121 | Rustic Yet Refined
Joanne makes us a classic Italian frico and then with her student Stephanie demonstrates how rustic and refined can work well together in the same meal, making a spiced lentil and herb salad and halibut wrapped in prosciutto.
Recipes: Frico with Bacon and Potatoes, Prosciutto di San Daniele-Wrapped Halibut Fillet, and Spiced Lentils and Herb Salad
Student: Stephanie Gerbracht, Wine Sales
Episode 122 | I'm Inspired
Joanne is often asked where her inspirations come from and begins by composing an inspired salad with roasted beets, and then gives her student Charlie some pointers for making honey glazed pork chops and a roasted squash puree.
Recipes: Bibb Lettuce Salad with Roasted Beet, Grapefruit and Pecans, Honey Glazed Pork Chops with Orange and Cardamom, and a Roasted Squash and Ginger Puree
Student: Charlie Baldwin, City Gardener
Episode 123 | Kicking up the Classics OR Kick it up a notch
Joanne and her student Lauren give comfort food a kick preparing a 30 minute lamb and black bean chili and hiding a red pepper jelly surprise inside corn muffins.
Recipes: Thirty-Minute Lamb and Black Bean Chili and Spicy Red Pepper Jelly-Filled Corn Muffins
Student: Lauren Eastman, Public Relations Executive
Episode 124 | Market to Table
Joanne's day begins at the farmer's market and she shows us a fresh sugar snap pea soup. Then she works with her student Kyle to perfect his pasta techniques making a fresh fettuccine with asparagus, prosciutto, and lemon crème fraiche.
Recipes: Sugar Snap Pea Soup with Mint and Meyer Lemon Oil and Fresh Fettuccine with Asparagus Ribbons and Lemon Crème Fraiche
Student: Kyle Khasigian, Financial Associate
Episode 125 | Food Memories
Joanne remembers her trips to Italy and with her student Di shows us a classic pizza strata and a dessert inspired by limoncello.
Recipes: Green Salad with Garlic croutons and Balsamic Red Wine Dressing, Pizza Strata, and Lemon Sorbet and Vanilla Ice Cream with Limoncello
Student: Di Harris, Retired Nanny
Episode 126 | Summer's Bounty
Summer is definitely the time Joanne gets excited about fruits and vegetables, greeting her student Leah with a little jem salad perfectly dressed with a buttermilk blue cheese dressing. They make a spicy spaghetti together and then cool things down with a blueberry frozen yogurt.
Recipes: Little Gems with Almonds and Buttermilk Blue Dressing, Spicy Spaghetti with Sautéed Fennel and Mussels, and Blueberry Frozen Yogurt
Student: Leah Ballantyne, Teacher
Executive Producer
Joanne Weir
Producer/Director
Paul Swensen
Culinary Producer
Chris Styler
Director of Photography
Tim Bellen
Line Producer
Amy Vogler
Sound
Dean Miller
Tony Jensen
Online Editor
William Meese
Makeup
Nicole Sofios
Kris Ravetto
Associate Producer/ Student Coordinator
Sally Cohen
Back Kitchen
Andrea Boje
Karen Alvey
Camera Operators
Camera Operators
Alan Hereford
Steve Bellen
Greg Peterson
John Behrens
Grips
Jason Gittens
Curtis Dinsmore
Production Assistant
Aurielle Perimann
Music Composed and Performed by
John Lawrence
Power of 2 Music
Post-Production Services
Paul Swensen Production, Inc.
Station Relations
Hope Reed
For KQED Presents
Lisa Landi
Brought to you by:
Legends of Europe
Anolon

Howzer
U.S. Highbush Blueberry Council

Valley Fig Growers
Village Harvest

Special Thanks To:
Whole Foods Market
Cuisinart
Rösle
Duralex
Keurig
Meyer
OXO
Peugeot
Amco
Ornella

J Wines
Caymus
ZigZando
Thermapen
Vitamix
Wüsthof
Swissmar
Microplane
KitchenAid

Emile Henry
Le Creuset
Hidden Ridge
Irish Dairy Board
Conti USA
Fonté Coffee
American Lamb Board
Sparrow Lane
California Caviar Company
Chicago Metallic Bakeware
1070 Green by MCG Cellars
Boutique Wine Brokers
Domaine Carneros
Mionetto Prosecco
Domaine de la Solitude
Cantina Tollo, Abruzzo, Italy
Gloria Ferrer
Pottery Barn
Sur La Table

© 2012 Joanne Weir Productions
Joann Weir's iPad App:
Joanne Weir Cooking Confidence Appetizers
Howzer